Handmade pieces by Italian artisans...
Hours of the finest Italian craftsmanship are behind each one of our wheels. Not only for the creation and selection of the best pieces of leather, but also the careful and detailed work of wrapping and stitching each wheel.
This becomes evident the moment you hold one in your hands!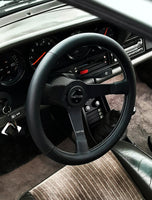 What our customers are saying
Well, I'm very impressed! The wheel has transformed how the car feels to drive, the slightly smaller diameter and thumb positions really suit the car and make it feel a bit more sporty.  The wheel was easy to install and I wasn't expecting the resistors for the airbag to be included, that was a nice addition and shows an attention to detail.
I'm going to suggest Tactico to other Porsche owners. I have never done anything like this before but I'm very impressed with the quality, price and your customer service

P. Taylor - 1992 Porsche 968
How are you guys?

Just to say a "thank you" as the wheel and boss have arrived today!

The quality is beautiful and the whole wheel looks superb. Thank you very much!

Paul Cowland - 1982 911 Flatnose Project
I received my awesome new wheel today. It looks really good!

I was about to buy another wheel when I saw your wheels on Instagram. I thought it looked really good and more exciting than the wheel I was considering so I went for it and I don't regret it!

You look like you are relatively new in the business and I wish you all the luck with your fine products and your excellent personal and professional buying experience!

Mikkel B - 1975 911S
I have just recieved the wheel and all I can say is wow! it's absolutely fantastic and the quality is amazing!

Thank you both for your help!

Have a lovely evening.

Craig - Viceroy on F-Type 911
Free Stickers (shipment included)